Key Information
All 2022-23 parking lot locations have been rolled over automatically for the 2023-24 season.
You must still meet the minimum donation requirements and pay for the pass to retain parking for the 2023-24 season. You can renew, request to add, or request to change your parking pass with your season ticket renewal.
To be eligible for Women's Basketball parking, you must donate at least $50 annually per pass to the Huskers Athletic Fund and have Women's Basketball season tickets on your donor account.


Garages Red 1 and Green 2 and surface Lot 18 are used for Women's Basketball donor parking. There is a limit of one (1) pass for every four (4) season tickets held.


Disability parking is available for a charge for vehicles with a state-issued handicapped hang tag or license plate on a first-come, first-served basis on game days at Gate 4 northeast of Pinnacle Bank Arena (look for directional signage on Pinnacle Arena Drive). Other disability parking is available in the Festival Parking area near Pinnacle Bank Arena. For fans' convenience, a drop-off location is available for fans with disabilities at Gate 4.


The City of Lincoln provides disability parking spaces in each public garage and on the street level, including the Red 1 Garage across the street from Pinnacle Bank Arena.
For more information on available spaces, locations, and prices, call (402) 441-PARK or visit parkandgo.org.
--
If you would like to purchase NEW women's basketball parking for the 2023-24 season or if you would like to CHANGE your lot from last season, please rank the lots in order of preference on your online invoice.
Garages Red 1 and Green 2 and surface Lot 18 are used for Women's Basketball donor parking. Please reference the map for donor lot choices and locations.
New/additional parking will be assigned based on your Nebraska Athletics lifetime giving. If allocated, new/additional parking will be invoiced separately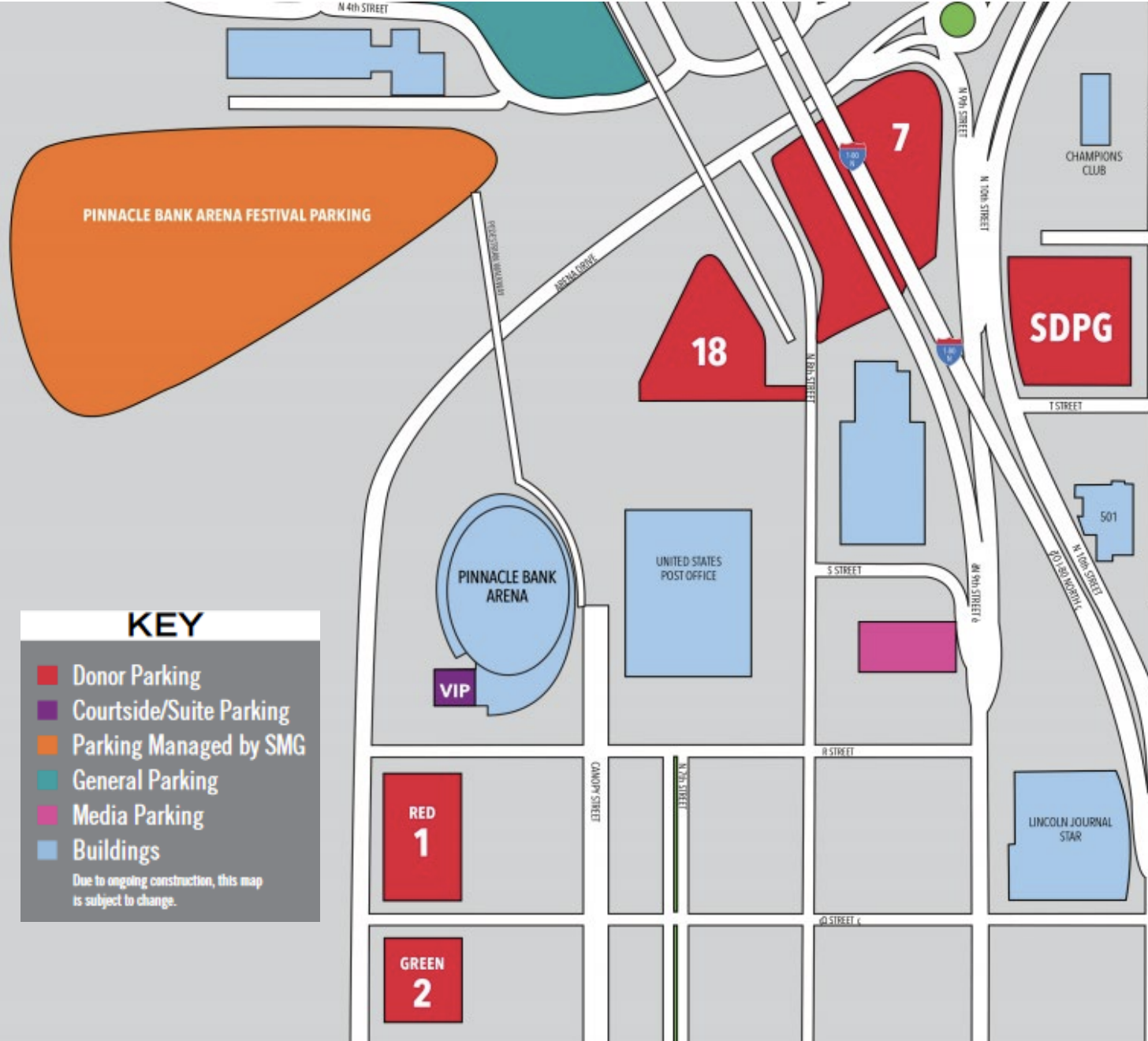 If you were seated any closer at Pinnacle Bank Arena, you'd need a uniform!
These courtside plush leather seats are available at the Women's Basketball games on the west, north, and south side of the court and include a parking spot in the parking garage connected to the arena, complimentary refreshments, and a catered meal before each game and at halftime in the courtside hospitality room.

For women's games, the annual contribution is $500 per seat plus the price of season tickets.

For more information or to be added to the courtside waitlist, please contact nebraska@huskers.com.
Seat Yourself Process
The Seat Yourself process helps current and prospective Women's Basketball Season Ticket Holders who wish to explore the option of moving their season ticket(s) or acquiring new seats. During the process, those interested will be able to log onto the website and view an interactive map of Pinnacle Bank Arena to view available seats, to make changes to their current seats, or to select new or additional seats.

Time slots for accounts requesting to be a part of the Seat Yourself process are determined based on donor priority points.

Requests for new season tickets must join the Season Ticket Request List by clicking here.

You now have the opportunity to choose your own seats in Pinnacle Bank Arena according to your own preferences on donation and/or location. To learn more about the process, click the button below.
Interested in transferring your season tickets to other family members?
Contact the Nebraska Athletic Ticket Office at 402-472-3111 for more information about transfer options.
Some restrictions apply. Parking passes are non-transferable.
Coaches:

We encourage you to attend our home women's basketball games. You, your coaching staff, and your high school or club team are allowed to attend our home games for free through our complimentary admissions policy.

Instructions for receiving complimentary admissions to Husker home games:

1. Click on the "Team Request Form" below and fill it out alphabetically for all coaches and players. Any others accompanying the team would need to purchase tickets (such as family members, chaperones, etc.). DO NOT SIGN THE FORM IN ADVANCE. All those entering via the form will need to sign in for admittance at the door.

2. Email the finished form to the Nebraska Athletic Ticket Office at nebraska@huskers.com. Submit ONLY those players/coaches attending the game, not the entire roster. The time frame to submit the request is no earlier than 2 weeks before the game, and it must be received no later than 2 days prior to the game you are attending. If you are attending any weekend game (Friday, Saturday or Sunday), the request is due Thursday at noon. Please fill out the form completely and follow all instructions on the form before emailing it.

3. When you arrive in Lincoln, please go to the pass gate (which is located at the furthest southwest entrance at Pinnacle Bank Arena) with your entire team to sign in for admittance to the game. We request that you enter by a half hour prior to tipoff to try to alleviate the congestion at the gates.

4. Wear Red and Be Loud!

5. Any questions, please contact the Nebraska Athletic Ticket Office at 402-472-3111 or 800-824-4733. GO BIG RED!
Buy From Authorized Ticket Sellers
Only individuals who purchase tickets directly through the Nebraska Athletic Ticket Office can be ensured to enter the event
Tickets purchased from other resale marketplaces (Craigslist, Ebay, Facebook, Vivid Seats, etc.) are not guaranteed as valid for entry
Counterfeit Tickets
Any counterfeit, invalid or altered tickets will not be allowed to enter the venue
The Nebraska Athletic Department has seen an increase in the amount of invalid and fraudulent tickets rejected at the gates on gameday. Here is some helpful information on purchasing University of Nebraska Athletic Tickets.
Where should I purchase tickets and who is an authorized seller?
Purchase at Huskers.com/tickets, by calling 800-8-BIGRED, in person at the Nebraska Athletic Ticket Office, or at the event.
How do I protect myself from ticket fraud?
The barcode is the most valuable piece of information on a ticket. Treat and protect the barcode as you would your bank and credit card information. The barcode is all that is needed to duplicate your tickets to use or sell, thus rendering your tickets worthless.
Buyer beware. When purchasing from an unauthorized seller, you as the buyer are assuming all risk.
What happens if my ticket is invalid at the gate?
If you experience issues with your tickets at the gate, please see a Nebraska Athletic Ticket Office staff member at the event.
Please contact Nebraska Athletic Ticket Office with any questions concerning ticket protection by calling 800-8-BIGRED or 402-472-3111 or emailing nebraska@huskers.com