Husker Power - Strength and Conditioning
"The Birthplace of Strength and Conditioning for Collegiate Athletics."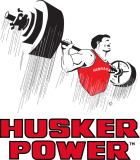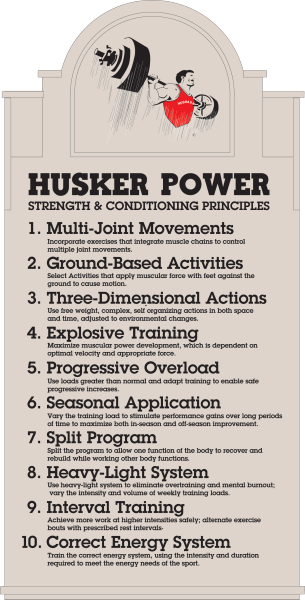 Since August 15, 1969, when Nebraska became the first NCAA school to hire a strength and conditioning coach, millions of student-athletes around the world have been impacted by the innovation in strength and conditioning at Nebraska. History
Husker Power programs are based on Ten Principles. Principles
Strength and Condition Programs are focused on building muscle, increasing strength and power, and training in the appropriate energy system. Training
Movement screens are used to detect possible postural imbalances and movement programs are designed to inhibit muscles to strengthen other muscles to correct postural imbalances.
The Performance Index and Strength Index were developed to evaluate each student-athlete and to assist the student-athletes in setting goals to improve their performance.
Husker student-athletes train in some of the finest training facilities in the nation. The Ndomukong Suh Strength and Conditioning Center, located in the Tom and Nancy Osborne Athletic Complex, the Alloy Strength Complex, located in the Hawks Championship Center, and the Hendricks Training complex, located in the Bob Devaney Sports Center, serve the Husker student-athletes. Facilities
Husker Power Strength and Conditioning coaches are not only certified with a nationally accredited certification, but have years of strength coaching experience, and are also members of the National Strength and Conditioning Association Registry.