Lincoln - Five-star recruit and reigning Nebraska Gatorade High School Player of the Year Britt Prince headlines a three-player signing class announced by Husker women's basketball coach Amy Williams on Wednesday.
Prince, a senior at Elkhorn North High School and the No. 28 ranked prospect in the nation by ESPN, joins Amiah Hargrove (Christopher, Illinois) and Lincoln Southwest High School guard Kennadi Williams in Nebraska's trio of 2024-25 newcomers who made their college plans official on Nov. 8.
"Today is an exciting day for Nebraska Women's Basketball with the addition of these three outstanding student-athletes," Williams said. "They are winners that want to be a part of something special. They are committed to developing as people and as basketball players and will fit in perfectly with our team's culture."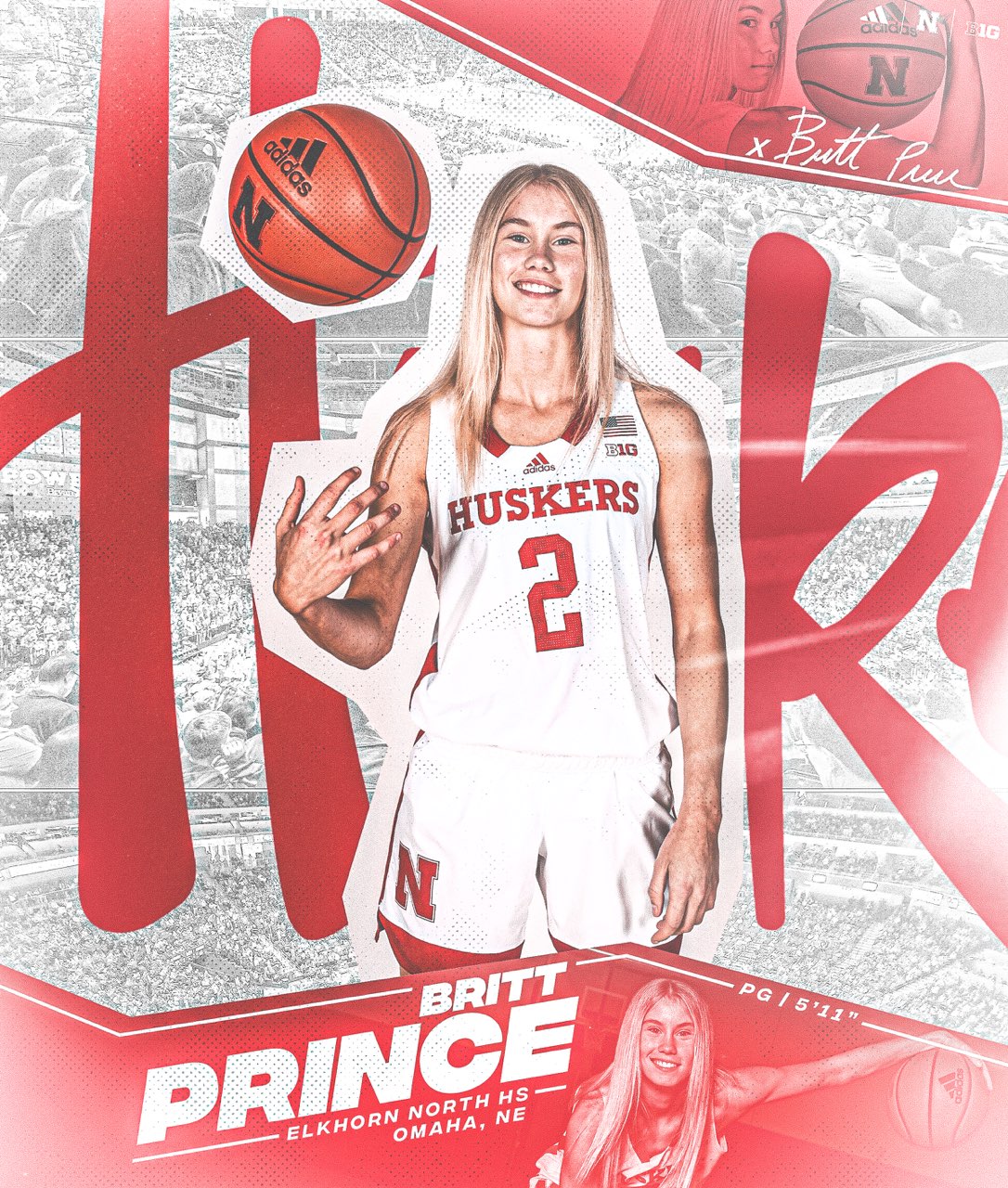 Through her first three high school seasons, Prince has totaled 1,790 points, 574 rebounds, 362 assists and 276 steals. The Gatorade and Max Preps Nebraska Player of the Year in 2023, Prince averaged 24.2 points, 8.6 rebounds and 6.2 assists while hitting 59 percent of her shots from the floor, including 46 percent of her three-points, and 92 percent of her free throws while playing for her mother and coach Ann Prince at Elkhorn North.
An adidas All-American and a Max Preps Junior Second-Team All-American in 2023, Prince is a three-time Super State and All-Nebraska selection while leading the Wolves to three consecutive Class B state championships. At the 2023 state tournament, Prince totaled 84 points on 29-of-40 shooting, including 10-of-14 from long range. She was also a perfect 16-for-16 at the free throw line. During the regular season, Prince recorded a triple-double with 33 points, 11 rebounds and 10 assists in a win over Hastings.
"Britt is an extremely gifted athlete and when you partner that with an intense passion for basketball, a work ethic that is unmatched, high character, and a winning mindset, the result is something special," Williams said. "It has been amazing to watch Britt utilize her unique talents to accomplish so much already in her basketball journey, and we cannot wait for that to continue into her college career here as a Husker. Britt's decision to stay home and represent her home state says a lot about Husker Nation and how special it is to play for Nebraska."
A talented all-around athlete, the 5-11 Prince finished fifth at the state cross country championships as a freshman, before winning state titles as a member of the 4x400 relay team on the track as both a freshman and sophomore. She also won state gold in the 800-meter run as a sophomore, after taking silver in the event as a freshman. She added another relay gold in the 4x800 relay as a sophomore after taking silver as a freshman.
An Academic All-State selection in both cross country and basketball in 2023, Prince is a member of National Honor Society and the Honor Roll at Elkhorn North.
"I chose Nebraska because I have grown up a Husker fan and I have dreamed about playing for Nebraska ever since I was a little kid," Prince said. "I believe the program is headed in a great direction and I have developed great relationships with both the players and coaches."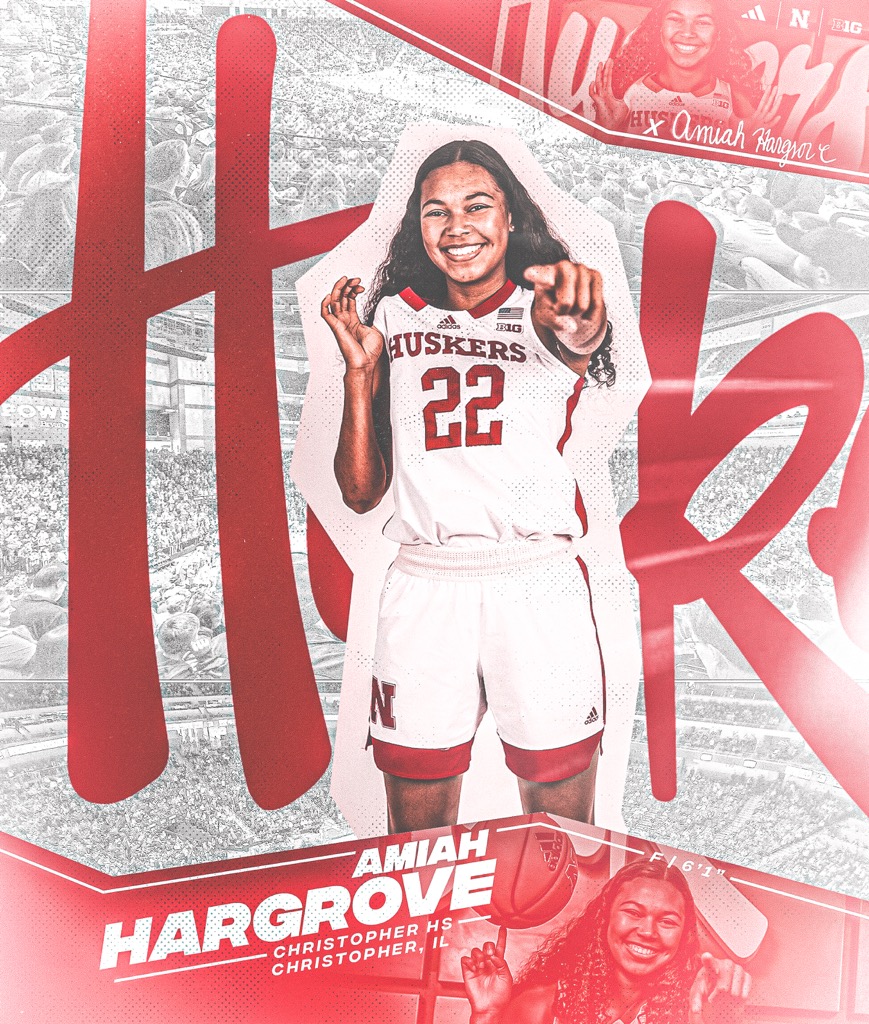 Hargrove, a 6-2 wing at Christopher High School in Illinois, averaged 24.7 points, 9.7 rebounds, 1.4 assists , 2.2 steals and 1.3 blocks while hitting 62.8 percent of her shots from the field and 85 percent of her free throws as a junior in 2022-23. The three-time Illinois Class 1A all-state selection was the 2023 Associated Press Illinois Class 1A Player of the Year and a two-time Southern Illinois Girls Basketball Player of the Year. She was also a three-time conference MVP and three-time all-conference selection.
An explosive all-around athlete, Hargrove erupted for a career-high 55 points against Salem and 51 points against Cobden. She led Christopher High School to a state runner-up finish after capturing sectional and super-sectional titles. She has also fueled the Bearcats to a trio of conference championships and two regional crowns.
Over the past two high school seasons, Hargrove has totaled 1,408 points, 550 rebounds and 146 steals. Her father, Anthony, was an NFL defensive end from 2004 to 2013. He was drafted out of Georgia Tech by the St. Louis Rams and was a member of seven NFL teams, including the Super Bowl champion New Orleans Saints.
"Amiah is a high achiever in everything she pursues, and we could not be more thrilled to be welcoming her to the Husker family," Williams said. "Her size and athleticism combined with her versatile skill set make her the perfect fit for our team on the court. Her high character, work ethic and drive make her the perfect fit off the court. She has a bright, bright future, and we are so excited it will be while wearing Husker red."
Hargrove also has competed in volleyball, softball and track and field, while earning third-team Academic All-America honors. She was a member of the High Honor Roll and National Honor Society at Christopher and plans to major in marine biology at Nebraska.
Hargrove chose Nebraska over Creighton, Missouri, Illinois and Marquette.
"I chose Nebraska because it was the perfect fit for me," Hargrove said. "From the Lincoln community to the coaching staff, it instantly reminded me of home. I know that sounds cliche, but it is so true. I cannot wait to be a Husker!"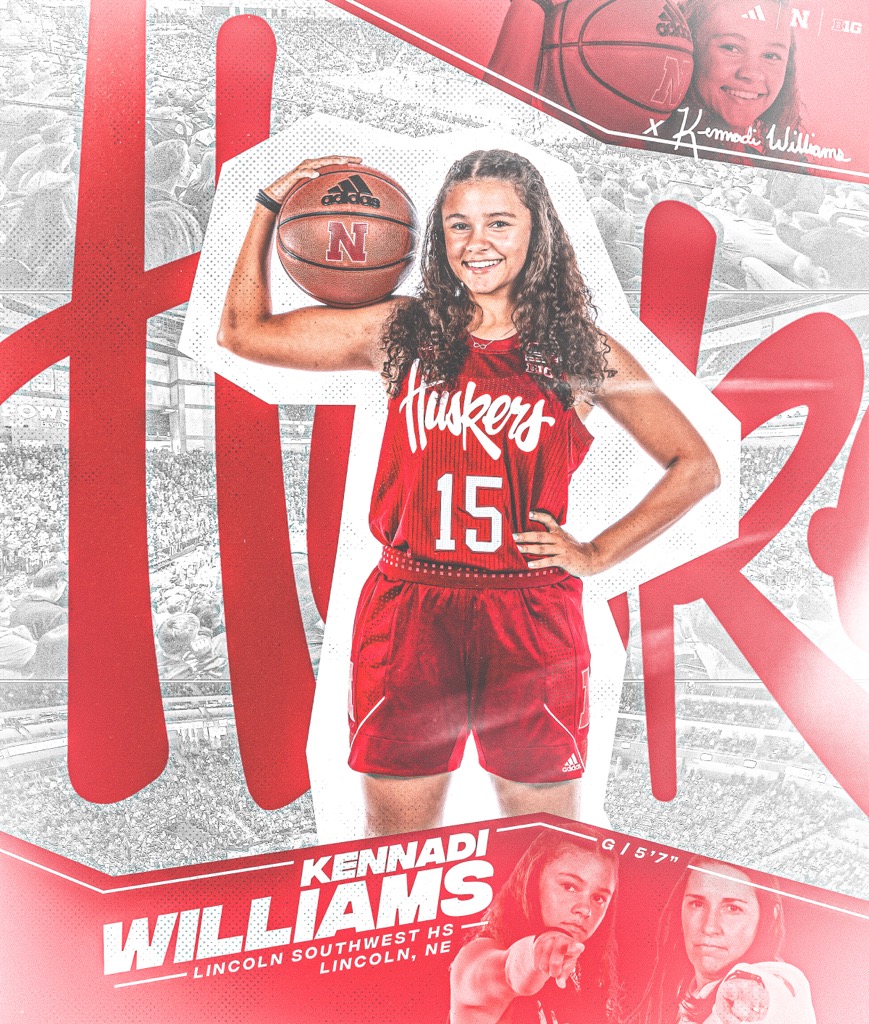 Williams will become a Husker after an outstanding career as a multi-sport star at Lincoln Southwest. The daughter of Husker Head Coach Amy Williams, Kennadi was the 2022 Lincoln Journal Star High School Female Athlete of the Year and the Girls Basketball Player of the Year as a sophomore. She helped the Silver Hawks to a state runner-up finish as a sophomore, scoring 24 points in the Class A state quarterfinal game. During her sophomore season, she averaged 11.9 points, 3.2 assists and 3.0 steals per game while earning second-team Super State honors.
She missed much of her junior year after suffering a knee injury in June of 2022, but returned to the court in mid-February to lead Southwest back to the state tournament, scoring 23 points in the state quarterfinals as a junior.
"It is a special day for us to be officially adding Kennadi to the Husker women's basketball family. She has been passionate about this program since we came to Lincoln, and it is her dream to represent the Huskers and help push this program to national prominence," Williams said. "She is a tough competitor, a gifted athlete, and an amazing teammate who will do whatever it takes to help her team win. I am really looking forward to sharing this experience with her."
A four-year varsity letter winner in basketball and softball while also starring in soccer at Lincoln Southwest, the 5-4 Williams was a Class A all-state selection and a member of the Nebraska Class A All-Tournament Team in 2022. She was also an honorable-mention all-state choice in 2023. She plans to play both basketball and softball as a Husker. She led Southwest to Class A state semifinal appearance as senior in softball, leading Class A in runs scored. She missed her junior year with injury. As a sophomore, Williams batted .362 with six home runs, seven doubles and 29 RBIs as a shortstop and center fielder while helping the Silver Hawks to a Class A state championship. She also helped the Southwest soccer team to the state tournament.
"I chose Nebraska because I love the culture and team chemistry between all of the girls," Williams said. "It's also close to home."